Professional & Affordable Commercial Cleaning

Services | Hire Reliable Commercial Cleaners

Experience the difference by hiring professional commercial cleaning services from Sydney's leading cleaning company. Request a free on-site quote and our team will call you! We'll make your gym, warehouses and other commercial premises clean, neat and organised in a timely manner. Our prices are very affordable and our cleaners are highly trained. We have fixed prices and no hidden fees. Request a quote online now! For many years, CLEANA has been a reputable and trusted provider of high-quality cleaning services to Sydney businesses. Our services and solutions are backed by high-level capabilities and cutting-edge cleaning equipment and processes that enable us to offer world-class services to you.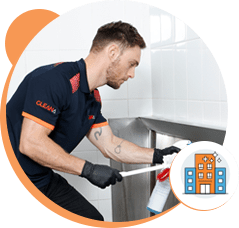 COMMERCIAL CLEANING
Our cleaners know what it takes to make your business premises neat and clean again, how to remove those sticky stains and graffiti from the walls and make the place safe to work at.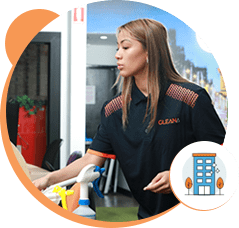 If you are looking for commercial cleaners for your office cleaning project, you can hire a complete team of cleaners at CLEANA at the best prices in the market.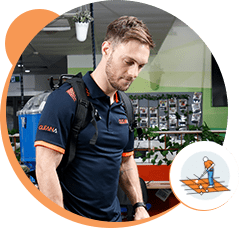 Need a hand cleaning of your strata or high-rise building for dirt, dust and undesired stains? Hire professional strata cleaners with CLEANA for comprehensive cleaning.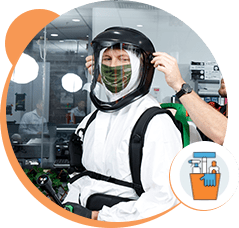 COVID CLEANING SYDNEY
Hire cleaning experts for complete sanitizing or full decontamination of your commercial place, gym, etc. to ensure the safety of your staff and customers.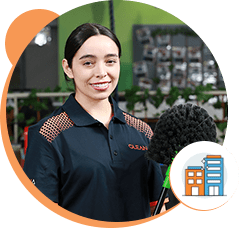 Medical centres like hospitals, clinics, etc. need to be cleaned and sanitised regularly. Don't worry, our commercial cleaners will ensure a clean and safe place for your patients & staff.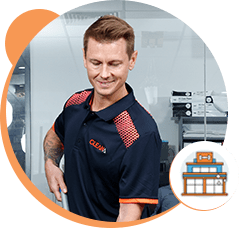 Your gym members care about their health, and so should you. Call us now for the commercial cleaning of your gym or health care centre by our expert gym cleaners.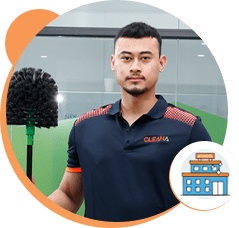 We specialise in the cleaning of schools, childcare centres, colleges, etc. while keeping proper care of the safety and health of students during the entire cleaning process.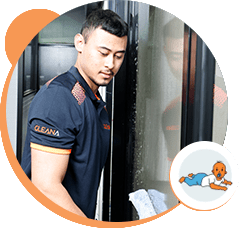 CHILDCARE CLEANING
We understand the importance of keeping your childcare centre clean to ensure the safety of your kids. Our commercial cleaners can deep clean your centre on a regular basis.
Loved by thousands of commercial businesses in Sydney NSW.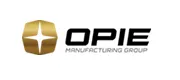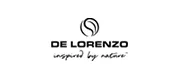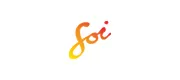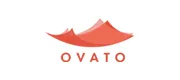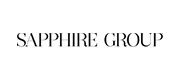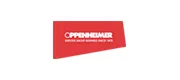 Hire Expert Commercial Cleaners in 3 Steps!
We make it super easy for you to hire and avail of the services of the best commercial cleaning company in Sydney. Just follow our easy, 3-step process to get a cleaning appointment booked with our amazing cleaners.

Request A Quote
Call us, email us or use the form on our website to contact us for a free on-site quote.

Discuss Your Requirements
Our experts will visit your premises for a free inspection of the site. You can tell your requirements to them, based on which they will give you a quote for a custom cleaning package.

Confirm the Appointment
If you are satisfied with the price and the first impression, you can go ahead and schedule an appointment for our cleaners' team to clean your place at your suitable time.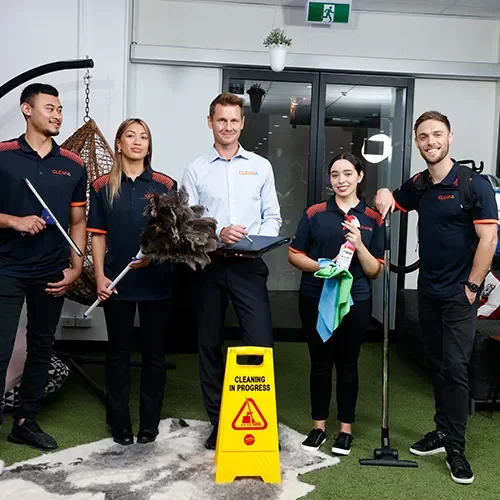 Reliable Commercial Cleaning for All Suburbs of Sydney
A neat, clean and well-managed office gives you peace of mind and your employees a safe working environment. We at CLEANA are dedicated to keeping your offices and workplaces clean through a team of efficient and expert commercial cleaners Sydney.
As you know, the first impression is the only thing that matters to your clients and customers, and a clean, well-organized office can be the key to making a strong first impression. In addition, keeping your workplace clean is also vital for the safety and continuous productivity of your employees. Let us help you make a lifelong impression on your clients and improve employees' performance through professional cleaning of your commercial premises.
What Does Commercial Cleaning in Sydney Include?
We provide commercial cleaning services, including floor cleaning, carpet cleaning, window cleaning and janitorial services across all major suburbs in Sydney. Being a leading provider of commercial cleaning Sydney with over 10 years of experience in the cleaning of both small and large spaces, we can offer everything you want in commercial cleaning. We understand you may have specific cleaning needs for your commercial place and will, therefore, offer tailored cleaning packages designed specifically to suit your needs and budget. If you are wondering or confused between a lot of different commercial cleaning companies in Sydney, you should definitely check out our services and team and read our client testimonials to know why CLEANA is recognised as a leading provider of commercial cleaning services in and around Sydney. We are the number one professional cleaning agency in Sydney, in terms of both customer satisfaction and service quality. As a CLEANA customer, you'll get access to our highly talented and trained team of commercial cleaners along with all the best quality, green cleaning solutions and high-tech machines for complete, in-depth cleaning of your premises at a competitive price.
Contact us to talk to an expert now!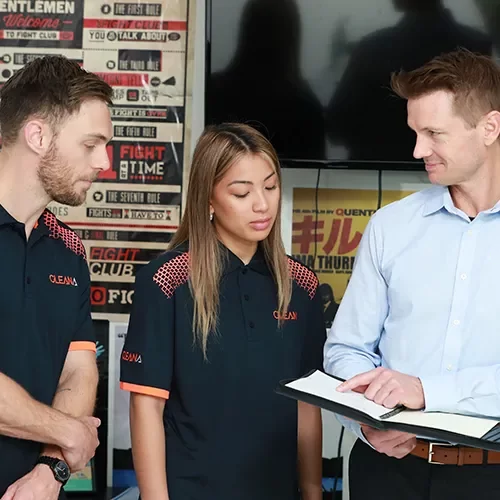 CLEANA - The Best Commercial Cleaning Company in Sydney
CLEANA is a Sydney-based professional commercial cleaning service provider company with a reputation for high-quality cleaning at a low cost. We provide commercial cleaning services in all major suburbs of Sydney.
100% Quality Guarantee
Here at CLEANA, we love what we do and are constantly working to ensure that our customers also love our work. We offer a complete quality guarantee on all our work.
10+ Years of Experience
Having nearly two decades of experience in the commercial cleaning industry enables us to cater to the unique cleaning needs of every type of business.
Best Cleaning Products
We use only green, eco-friendly and high-quality cleaning products to ensure a germ-free and healthy environment for your workplace and staff and our commercial cleaners.
Expert Cleaners
All our cleaners are hardworking and reliable people who have high experience in the cleaning of commercial places such as offices, warehouses, gyms and hospitals.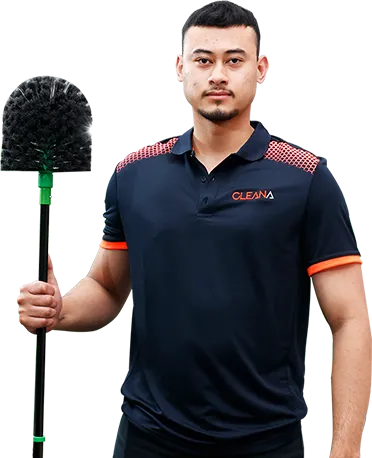 At CLEANA Commercial Cleaning Company Sydney, we do not believe in limiting ourselves, which means we will perform a deep and thorough cleaning of your place, no matter which package you choose to buy with us. For commercial cleaning Sydney, you can rely on us to clean your floors, carpets, walls, windows & doors, vents, kitchen, toilet & bathrooms, among other areas.
Floor cleaning
Window/vents cleaning
Kitchen cleaning
Toilet/Bathroom cleaning
Carpet cleaning
Mold removal
Vacuuming
Dry cleaning
Sweeping
Mopping
Dusting
Window cleaning
Cleaning of dustbins
Garbage removal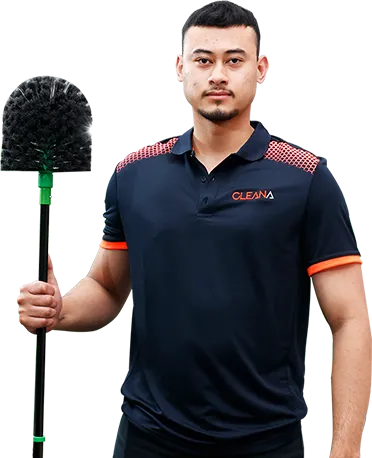 Types of Commercial Facilities We Clean
At CLEANA, we will take quality over quantity any day, when it comes to commercial cleaning. We only use the best quality cleaning products and the healthiest cleaning techniques to make your place clean, fresh and beautiful, without compromising the health of your employees.

Office Buildings

Corporate Headquarters

Universities & Schools

Commercial Kitchens

Industrial Complexes

Govt & Public Buildings

Convention Centres

Gym & Health

Malls & Shopping Centres

Hospital & Medical

Childcare Centres

Warehouses & Factories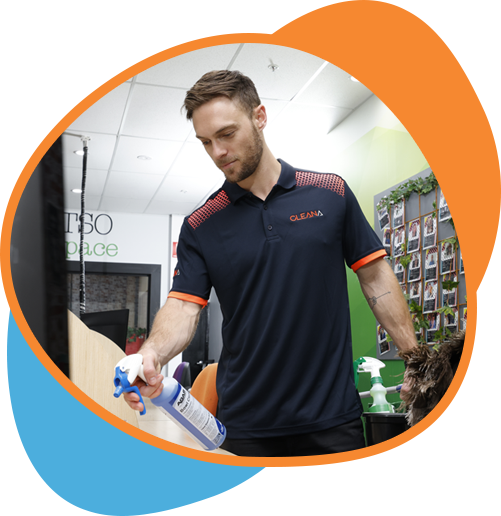 Inexpensive & Quality-driven Daily Commercial Cleaning
At CLEANA, you can hire an expert team of commercial cleaners for office cleaning, corporate cleaning, contract cleaning and all other types of commercial cleaning Sydney jobs. Through our impeccable experience in commercial cleaning, commitment to client satisfaction and outstanding service quality at affordable rates, we have become a prominent commercial cleaning company Sydney. CLEANA is the name you can trust for professional, safe and hassle-free cleaning of your place on a budget that suits you. Our mission is to become the premier commercial cleaning company in Sydney that businesses can rely on when looking for high-quality cleaning with value for money.
Get the best quote for your commercial cleaning project!
We provide tailored cleaning quotes and services, which means we will create your cleaning plan in real time after inspecting your property and thoroughly analysing your cleaning needs based on a discussion with you. Our cleaning quote will be precise and the most competitive in the market, because we want you to have the best value for your money.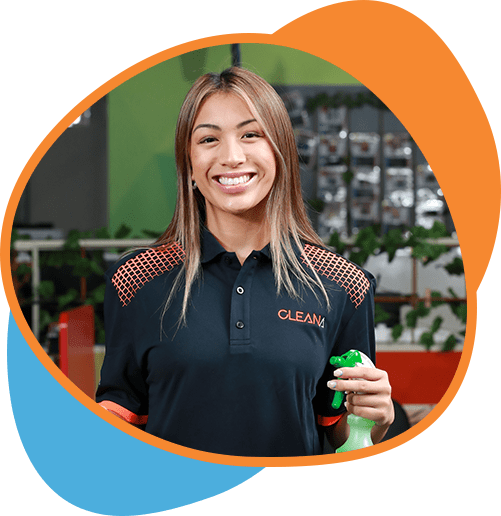 Delivering Value & Building Experiences through High-quality Cleaning
We at CLEANA are committed to delivering the highest standards in commercial cleaning Sydney for complete client satisfaction and 100% work quality. Our exceptional cleaning team has been trained in delivering the best results when it comes to commercial cleaning. Our cleaners specialise in all the modern cleaning techniques and tools for high-end cleaning of your place. More than anything, they understand your business and are able to provide the best cleaning services accordingly.
Give us a call now to book a free inspection of your place!
At CLEANA Commercial Cleaning Company Sydney, you can hire our cleaners for a range of cleaning services and types, including but not limited to, office cleaning, industrial cleaning, school/childcare cleaning, hospital cleaning, and more. Our team is trained to use specific cleaning techniques and supplies for the cleaning of different types of places, so you can be assured of 100% satisfaction and premium performance from our team.
Why Choose CLEANA Commercial Cleaning Company Sydney?
As one of the most trusted cleaning companies in Sydney, we are dedicated to consistently achieving excellence in everything that we do, which includes meeting our customers' expectations of quality commercial cleaning services in Sydney. We specialise in many areas of commercial cleaning, from offices to childcare, gym, medical, retail, and more.

Extensive range of services
Hire us for a complete range of quality cleaning and disinfection services, including specialist cleaning jobs in Sydney.

Meeting all your requirements
Having a world-class team of cleaners, top machines and extensive experience, we can meet all your cleaning needs.

Specialising in many areas
We are a full-service cleaning company specialising in all areas of cleaning and providing services to all premises.

Experienced & qualified team
We're your local commercial cleaning provider with a team of specialists with huge experience and skills in cleaning.

Healthy, clean and hygienic
For us, your safety is the top priority. We use eco-friendly products and methods to give you a clean and safe workplace.

Saving time & money for you
Our state-of-the-art cleaning techniques and tools will ensure you get the cleanest space at the lowest price possible.
Customer Testimonials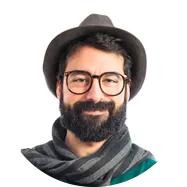 I am overall happy with the cleaning service and results. COVID has made life difficult for people in our office. Thanks to CLEANA, we have a safe and germ-free office space for work. I recommend them for commercial property cleaning.
Terry M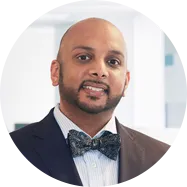 CLEANA has been my go-to commercial cleaning company for over a year now. They provide deep cleaning services to my properties before and after sales (I am a real estate broker), and thanks to them, my sales have gone up.
Wm C. Combs
Dedicated Commercial Cleaning & Maintenance Services by CLEANA
Emergency Service Clean Ups - Hire us for cleaning in all kinds of emergencies, medical, office meetings, parties & more. Same-day cleaning services in Sydney.
Gardening and Landscaping Service - We have a large team and can handle all kinds of property cleaning jobs, including strata cleaning and management.
Scheduled cleaning & maintenance - Save more time and money by scheduling a personalised commercial cleaning service for any time and day.
Carpet Cleaning - Give your carpets the much-needed professional clean every once in a while. Stain removal, steam cleaning, dry carpet cleaning & more.
Window Cleaning - We handle both exterior and interior window cleaning through a team of trained & specialist commercial cleaners with modern tools.
Graffiti Removal - Got stains or graffiti on your walls and floors? Hire professional graffiti removal services from Sydney's #1 commercial cleaning agency.
Know What Makes CLEANA the Best
GREEN Commercial Cleaning Company in Sydney & NSW
We have been in the cleaning business for many years now. As a 100% Australia-owned company, we take pride in being a reputable provider of high-quality & inexpensive cleaning services based on our core values of honesty, integrity and reliability. Call us for exceptional standards of cleaning.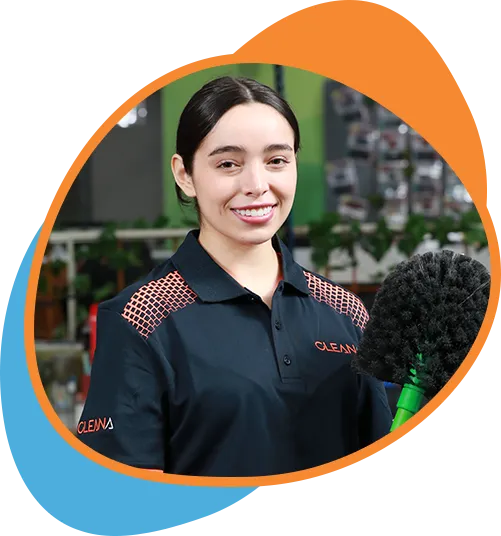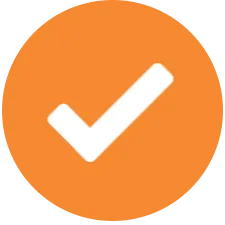 We help protect the environment
Not only are our cleaning supplies and methods 100% safe for the environment, as we only use certified environmentally friendly products, but also our cleaning programs include water-saving, zero chemicals & recycling.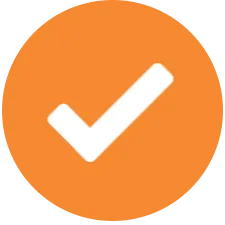 We use in-house cleaning products
To ensure the highest level of safety and health for our customers, we only use natural cleaning products made in-house using organic ingredients. This ensures our clients, their employees and visitors are safe.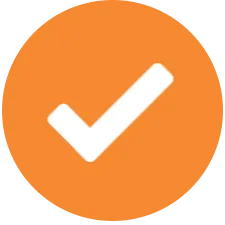 Advanced & innovative methods
You'll find that our cleaning methods and tools are the most advanced in the market. In fact, we've left competitors far behind in the use of the most innovative and advanced cleaning techniques, which make us a leader.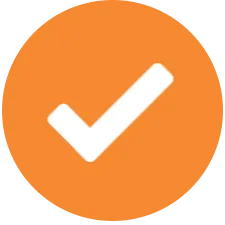 Constantly updating & upgrading
One of the core aspects of our cleaning services is our constant effort to keep our services in line with international standards of quality and safety. This is why we routinely review and upgrade our systems as needed.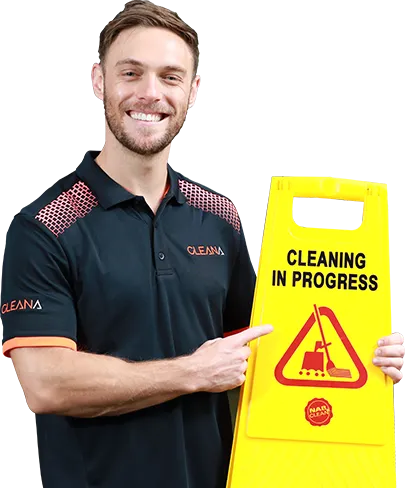 Say Goodbye To Your Cleaning Worries
CLEANA Commercial Cleaning Sydney Company
CLEANA is a leading commercial cleaning services provider that you can trust for high-quality cleaning services, office cleaning, school cleaning, window cleaning, carpet cleaning, gym cleaning, childcare cleaning, after builders cleaning, and others. Our services are driven by our company values and are managed by a team of professionals with unmatched skills. Every commercial cleaner in our team is highly trained and has a minimum of two years of cleaning industry experience. We work with one simple goal – to make every client as happy and satisfied with our services as possible.
Making Top-Quality Cleaning Affordable & Accessible
When it comes to professional commercial cleaning services, the options are usually limited. Moreover, businesses cannot always find the right cleaning service or the best commercial cleaners to fit their particular needs and budget. To solve this problem, we are working day and night with the aim to make high-quality cleaning services in Sydney affordable and accessible to everyone. On top of that, every professional service by CLEANA is provided with a 100% satisfaction guarantee, that is customers can ask for a re-clean if they are not completely satisfied or happy with the service provided.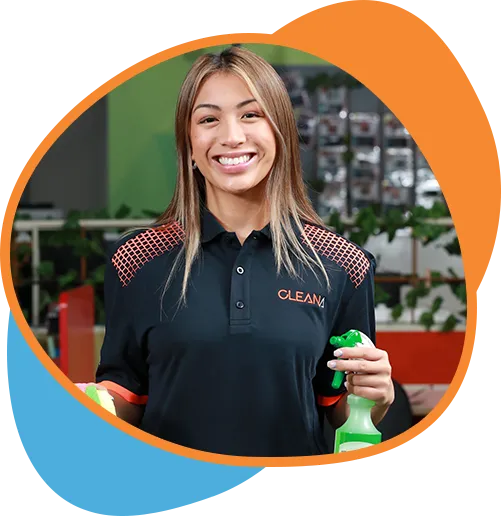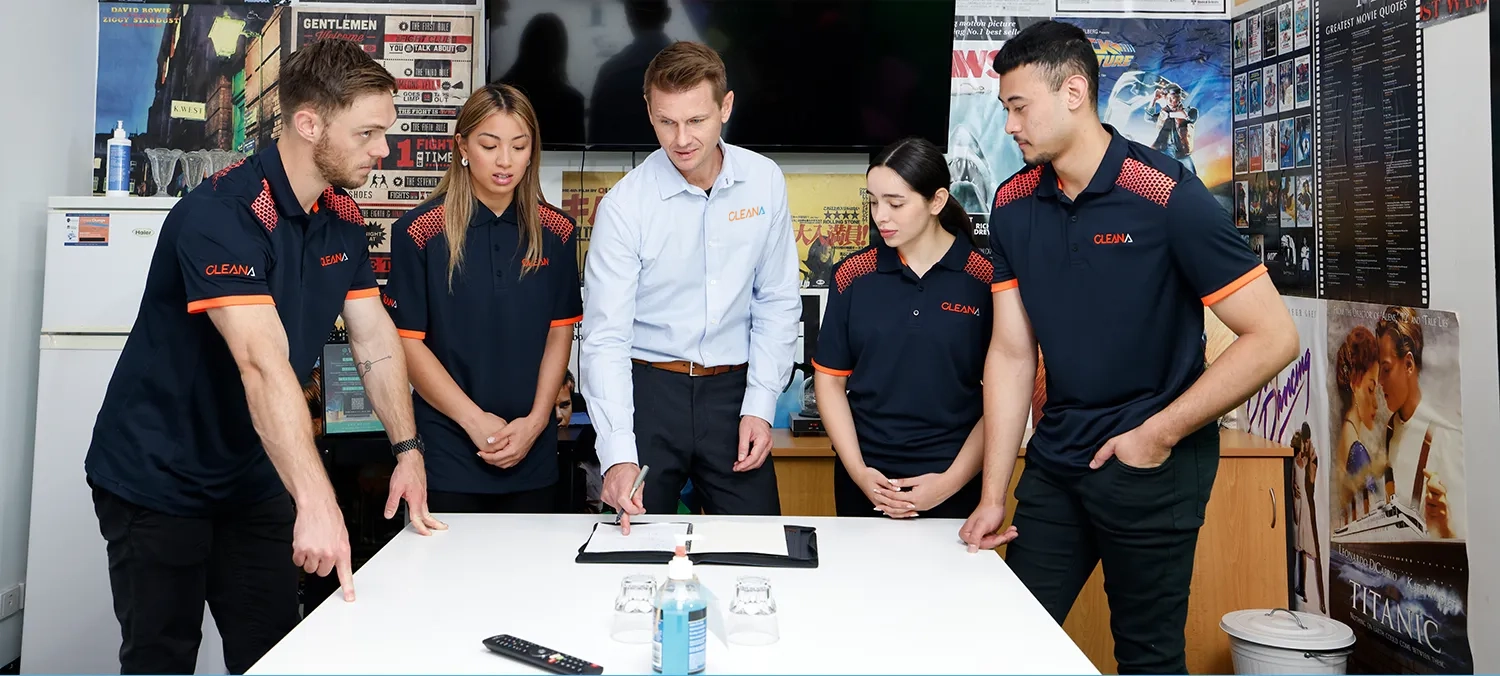 Driven by Our Commitment to Quality and Customer Service
Even after so many years, we are here only because our valuable customers continue to trust and like us for their cleaning needs. This has been possible because of our undying commitment to what we do here at CLEANA, which involves using professional and skilled commercial cleaners, advanced equipment and eco-friendly methods to deliver efficient cleaning results.
Unmatched cleaning skills and talent
Ever so friendly and professional
Always on time and polite
Over a decade of experience
Routine Cleaning & Deep Cleaning, We Do It All.
There isn't much we don't or can't do when it comes to commercial cleaning in Sydney. Be ready to say goodbye to office germs, dust and dirt, as our commercial cleaners won't give you another chance. We are someone who you can always trust for exceptional cleaning, no matter what. All our cleaners are well-trained, experienced and fully insured for your peace of mind. We only employ and work with professionals who are verified by the police and are certified safe to work with children. our non-toxic supplies are safe for your kids and the environment.
Frequently Asked
Questions
We know that every business is different and so are its cleaning requirements, which is why we work hand in hand with our esteemed clients to keep their workspace clean and understand their particular cleaning needs and offer the best professional, tailored services accordingly.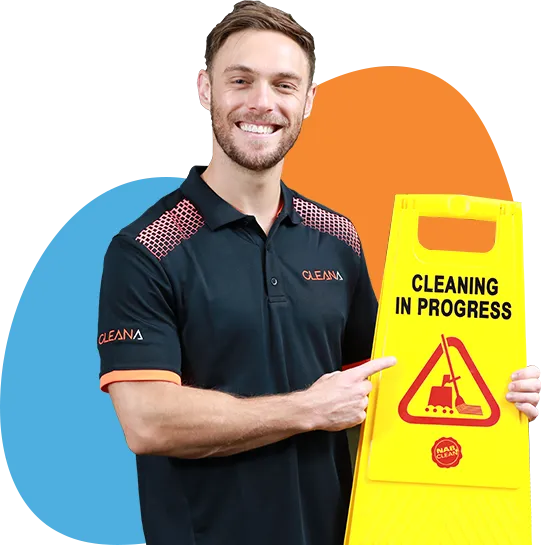 The services of a commercial cleaning company may cover everything from routine cleaning to deep cleaning, carpet cleaning, daily vacuuming, window cleaning, kitchen cleaning, disinfection, exterior cleaning, etc. We will mop the floors, wipe and disinfect surfaces and clean your office toilets. Carpet cleaning types include steam clean and dry clean. We at CLEANA offer comprehensive cleaning service and our cleaners will cover every area and corner in your place to make your entire facility spotless and germ-free. Call us today for a free quote.
The cost of commercial cleaning depends on many factors, including the type and size of the property. You can hire our commercial cleaners on an hourly basis and pay for the number of hours it takes to clean your premises. The cost of routine/basic cleaning starts at $40/hour and $50/hour for deep cleaning. We offer free quotes for all our projects, so feel free to contact us to set up a no-obligation onsite appointment today.
Commercial cleaning is a lot different from domestic or residential cleaning. It involves different types of, usually more professional and trained cleaners. Commercial cleaners at CLEANA use microfiber cloths and advanced methods such as hot water extraction for a consistently great service. We are a locally owned, highly recommended cleaning company with over a decade of experience and a full-time and trained office staff. We provide cleaning services to all types of commercial businesses in and around Sydney NSW.
Commercial office cleaners are professionals who have the training to provide cleaning services to commercial properties to help maintain cleanliness using effective but safe chemicals and cleaning equipment. Our cleaners are trained to use a cleaning approach that involves attention to detail and safety for children and pets. We define success through excellence through high standard service, great communication and customer service.
Cleaning agents are products used for professional cleaning. The cleaners at CLEANA use eco-friendly products that are made from natural, non-toxic ingredients and are friendly to the environment and human beings. Also, we recycle or reuse our supplies as much as possible to avoid waste. Hire our reliable cleaners for a day service or any cleaning job, same day or next day service, floor cleaning, etc. We can handle the cleaning of a large amount of debris as well as smaller areas and bathrooms in different industries across Australia.
Commercial cleaning means the cleaning of a commercial entity like an office building or a shopping mall. A commercial cleaner has experience and skills in cleaning a commercial facility and offers their services on behalf of a professional commercial cleaning company. Commercial cleaning may be of different types, routine cleaning, one-off cleaning, deep cleaning, emergency commercial cleaning, and others. Commercial cleaners use specialised products and equipment for the cleaning of a business facility.
We provide office cleaning services, for schools, gyms, corporates, childcare centres & many more in Melbourne, victoria (vic), port Melbourne, Parramatta, Liverpool, Chatswood, Cronulla town, Balmain, Surry hills and other regions in Sydney CBD & NSW. We have been cleaning Melbourne and Sydney in Australia for over a decade now. We aim to achieve a high level of cleanliness and infection control for your location using high-end cleaning methods and practices in line with our core values of reliability, efficiency & dedication to meet your expectations.
We offer many cleaning options, including customised solutions based on your particular cleaning goals. Whether you need comprehensive cleaning or need to get a part of your facility cleaned and no matter how many times, our cleaner has good cleaning experience to do it with character and a positive attitude with professionalism to make the best of every opportunity and cover all aspects of your organisation cleaning in the Sydney region. Read our customer reviews.
We bring our own cleaning supplies, which include soap, scrub, mop, buckets, and cleaning equipment. We strategically clean and wash the interior, exterior, floors, sidewalk, tile, grout, upholstery, inside area, restroom, lobby, and common areas, and eliminate the garbage in the dumpster.
Commercial cleaning generally refers to the cleaning of a standalone commercial building like an office or a school. Industrial cleaning, on the other hand, refers to the cleaning of an industrial site like a factory or warehouse. Industrial cleaning is generally done on a larger scale and involves the use of high-end equipment and supplies to perform a more thorough job to meet specific health and safety standards.
The services included in commercial cleaning may differ from one job to another based on the type of cleaning. A standard routine commercial cleaning job would involve vacuuming & mopping floors, cleaning toilets, bathrooms and urinals, cleaning kitchens & pantry areas, disinfecting high-touch places like door handles and tabletops, emptying & washing bins, cleaning internal/external windows, cleaning carpets, vents cleaning and dusting to remove cobwebs.

| | |
| --- | --- |
| Service Area: | Sydney Metropolitan |
| Services: | Commercial Cleaning, Office Cleaning, Strata Cleaning |
| Contact: | 02 9072 1653 |
| Email: | [email protected] |