Quality Warehouse Cleaning Backed by 100% Satisfaction Guarantee.
Hire Top Warehouse Cleaning in Sydney!
Maintaining a warehouse is considered a daunting task and for that reason only hiring a professional commercial cleaning service provider is crucial. If you are planning to get your Sydney warehouse professionally cleaned, then you must hire a specialist warehouse cleaning company.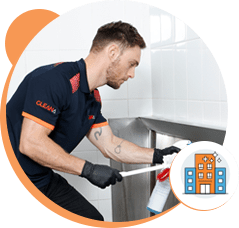 COMMERCIAL CLEANING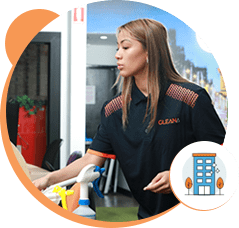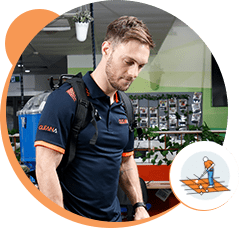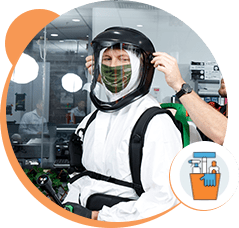 COVID CLEANING SYDNEY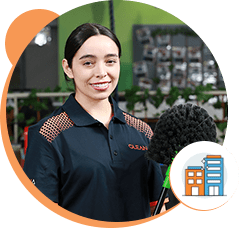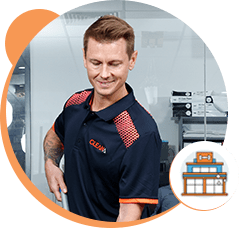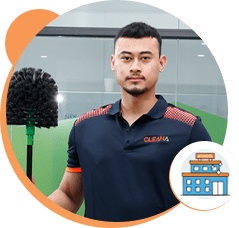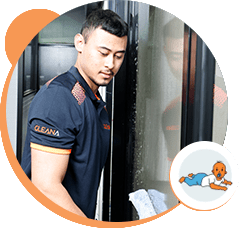 Loved by thousands of commercial businesses in Sydney NSW.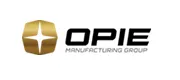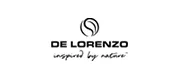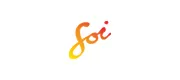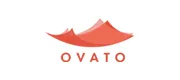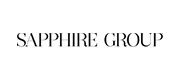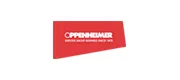 How to Find the Right
Warehouse Cleaning Service

in Sydney?

Nowadays, most of the warehouses are becoming distribution centres rather than storing their products. In case, you are having potential partners and clients who are coming to your warehouse then you must know about the importance of regular cleaning. Proper cleaning will involve warehouse inspection in order to flush out safety risks.

The right cleaning method
Understanding & evaluating potential health risks for determining the perfect course of action for warehouse cleaning.

Size of the warehouse
Warehouse cleaning relates to the size of the space. A property having very high ceilings will need specialist service.

Types of surfaces
When compared to a home and office, a warehouse has a huge range of surfaces and might need specialised materials.

Cleaners' experience
You want a cleaning company having good experience in factory cleaning and a team of skilled & trained cleaners.

Variety of cleaning
A warehouse may need carpet cleaning, office cleaning, steam cleaning, pressure cleaning & window cleaning services.

Affordable rates
When choosing professional warehouse cleaning services, make sure that it fits your budget. Choose quality over price.
Benefits of CLEANA for
Warehouse Cleaning Sydney Services
Improves pride in work, as you get to flaunt a cleaner and well-maintained warehouse to attract more customers and boost your business market reputation.
Enhances efficiency and productivity of workers by giving them a clean, spotless & germ-free work environment, which may also help increase your profits.
Improves health & safety of workers from harmful bacteria and viruses through routine warehouse cleaning and disinfection all around the premises.
Consistency is the key to maintaining a clean and safe workhouse. Our cleaners can consistently offer great quality cleaning services for your safety.
Employee satisfaction is another benefit you get from routine warehouse cleaning, as it will keep your employees happy and may help relieve work stress.
Industrial cleaning services will give you and your workers the ultimate peace of mind, which, in turn, will help boost the business reputation & profits.
Importance of Professional Warehouse Cleaning Sydney Services
Scrubbing and degreasing stubborn debris and grime from the floor must be done by highly trained and experienced professional commercial cleaners. The warehouse space could be massive and it is one of the most complex areas for cleaning. Choosing the best service provider is crucial.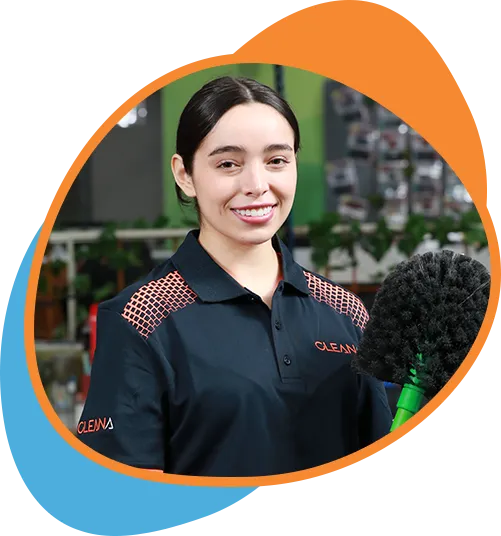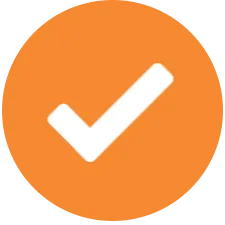 High-tech Equipment
The cleaning procedure will involve floor maintenance & cleaning and might require proper equipment to speed up the process. You can choose the cleaning service provider based on the review and quality of service.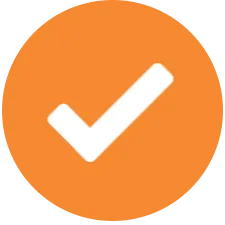 Professional service
Only a professional company can guarantee regular maintenance and safety of your warehouse for your company's safety practice to ensure the well-being of your employees and compliance with state and federal regulations.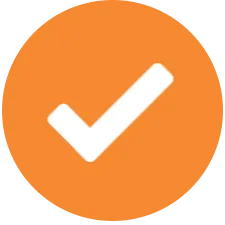 Efficient cleaning warehouse
A clean and organised warehouse environment might encourage accurate inventory management, a positive workplace atmosphere, and maximise efficiency along with fewer accidents in your factory or warehouse.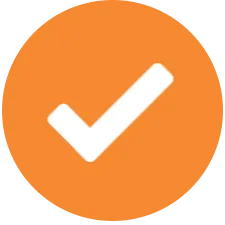 Experienced cleaners
Our experienced & professional commercial cleaners will use the i-mop floor scrubber to keep the commercial place clean. Offering a safe working environment in the warehouse involves lots of maintenance and preparation.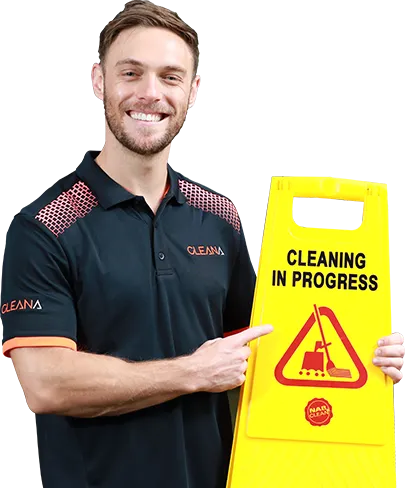 Say Goodbye To Your Cleaning Worries
How to keep your warehouse clean & well-maintained
In case your warehouse is filled with spills, clutter, and dirt then increasing chances are there to have accidents on the job. It is always important to offer visitors the impression your warehouse serves the same amount of professionalism and importance as corporate offices. A good commercial cleaning service is really useful to improve your efficiency. When choosing CLEANA the best cleaning service provider, you can get a wide range of the services such as steam cleaning, garbage removal, power washing, storage cleaning, recycling removal, basic repairs, floor stripping, and post-construction cleanup.
We offer warehouse cleaning services at budget-friendly prices
No matter what kind of decontamination and cleaning needs, you must pick a reliable cleaning company. The best cleaning company can offer useful services to their clients like trash removable, sweeping, mopping, stocking consumables, recycling, dusting, and bathroom cleaning. Some of the office cleaning providers can offer specialised services to their clients like hardware cleaning, carpet shampooing, floor waxing, and seasonable disinfecting. Experience plays an important role in commercial cleaning services and knowledge about what kind of services they are offered to their clients.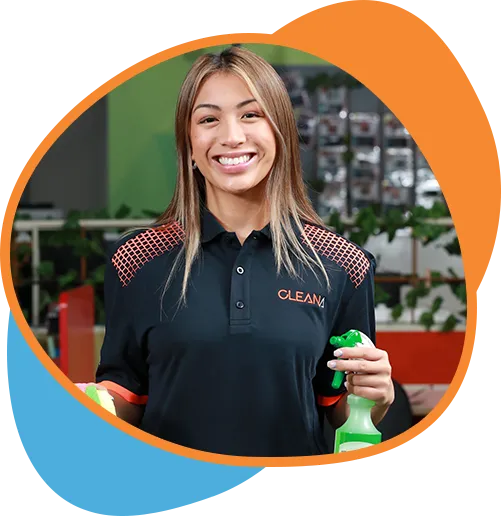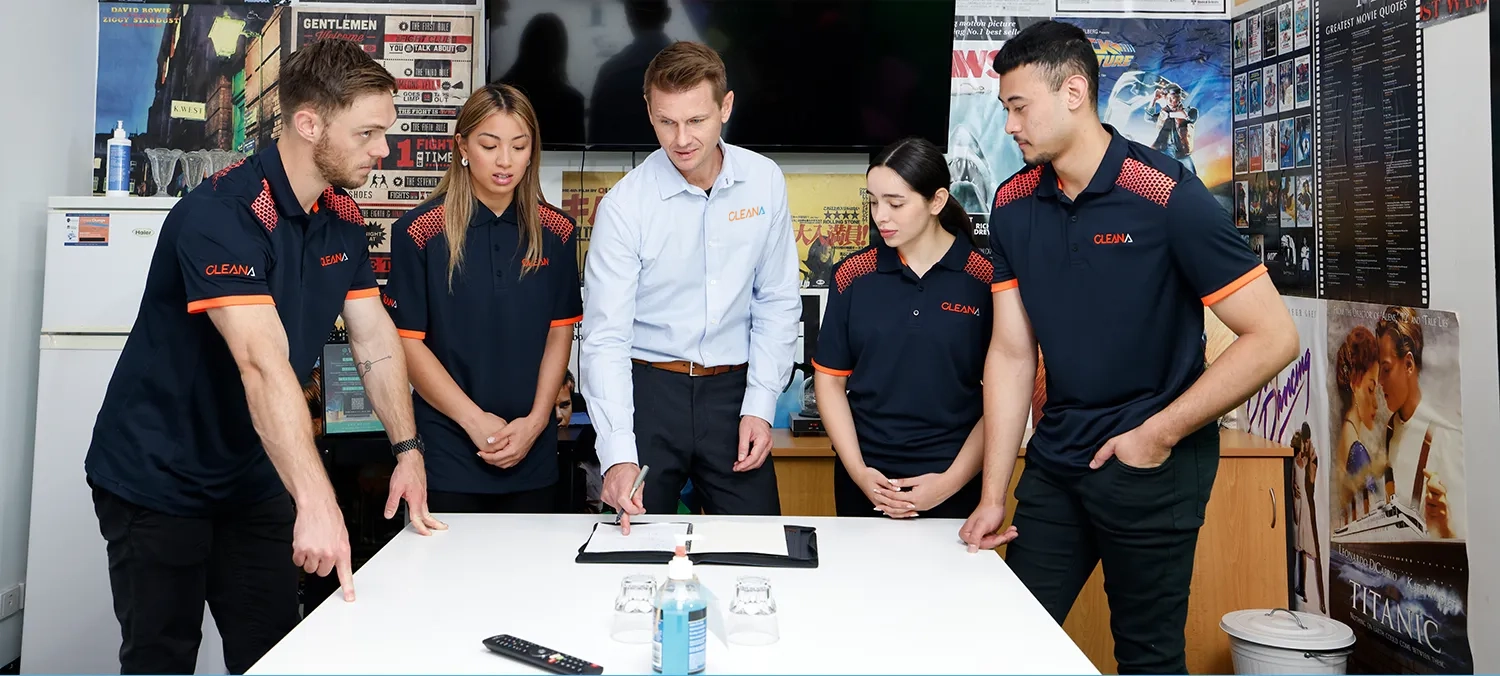 Tips to Choose the Best Warehouse Cleaning Company
As a facility manager or property owner, it is always doing some thorough research about the expert cleaning company. When choosing the company, you must be concerned about its reputation. In case you are a newbie to choosing a warehouse cleaning company then you must follow some tips such as,
Experienced, established company
Kinds of services they provide
Check standards and certifications
Inquire about cleaner training
CLEANA – a reliable & honest cleaning partner for your warehouse
Always make sure that the cleaning company can hold the highest standards of excellence. A commercial cleaning company must be fully insured and bonded. In a technology world, most people are willing to hire a warehouse cleaning company for many reasons like keeping their workplace and buildings clean and well maintained. A clean and neat place never neglects to check the impression. Employees love to work in clean offices. CLEANA cleaning company works on certain principles and standards which we adhere to and follow in all our services to give you a clean warehouse.
Frequently
Asked Questions
We know that every business is different and so are its cleaning requirements, which is why we work hand in hand with our esteemed clients to keep their workspace clean and understand their particular cleaning needs and offer the best professional, tailored services accordingly.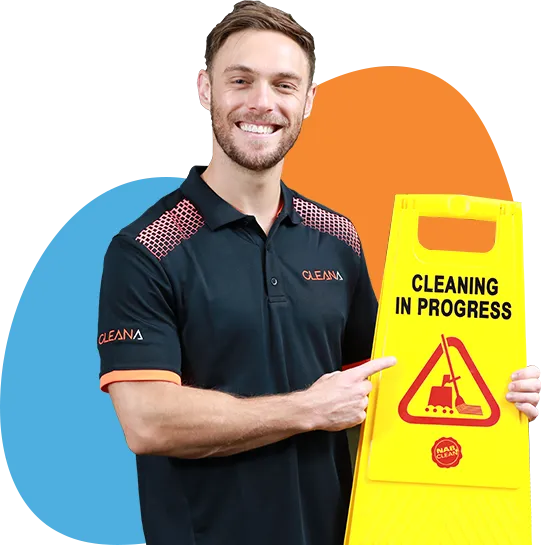 We clean all types of warehouses and other industrial premises, including but not limited to factories, distribution centres, government warehouses, industrial sites, bonded warehouses, self-storage, and more. We offer both routine cleaning and deep cleaning services and can also perform cleaning on weekends and after or before work hours.
Routine cleaning will involve basic cleaning of your warehouse, including floors, toilets, offices and other general areas and surfaces. Deep cleaning will involve basic cleaning plus other services like carpet cleaning, window cleaning, pressure cleaning, vents, and complete disinfection. For cleaning warehouses, we use a team of trained cleaners with access to top-quality supplies, eco-friendly products and cutting-edge equipment for efficient results. Get a free quote today for warehouse cleaning Sydney.
The areas of common use, such as floors, offices, toilets, kitchens, etc. should be cleaned regularly to remove dust, dirt and germs to keep the workers safe and the premises good-looking. In addition, you can schedule a deep cleaning for your warehouse every once a month or so, which will include deep scrubbing of floors, tiles and hard surfaces and the cleaning of other areas, corners, etc. that are generally missed in daily cleaning. The cleaning company should maintain high standards throughout the job.
All our warehouse cleaning services are designed to be affordable and budget-friendly so that every business in Sydney can afford great quality cleaning services irrespective of their facility size or type. We offer tailored services based on the particular needs of our customers and charge you only for the service that you actually use. For hourly packages, we only charge for the number of hours it takes to clean your facility. Contact us to get a free quote today.
Yes, we strictly follow and maintain the highest standards of quality and work in compliance with the recommendations of CDC and OSHA for commercial cleaning. Our raw materials and cleaning products are 100% non-toxic and safe for children and the environment. Customer satisfaction is an important aspect of everything we do, which is why we offer a satisfaction guarantee for all our services in Sydney.

| | |
| --- | --- |
| Service Area: | Sydney Metropolitan |
| Services: | Commercial Cleaning, Office Cleaning, Strata Cleaning |
| Contact: | 02 9072 1653 |
| Email: | [email protected] |