Whether you've been a homeowner for years or you've just recently gotten the keys to your very first home, we, CLEANA commercial cleaning services company are sure that you'll agree with us when we say that, when it comes to household tasks – cleaning upholstery can be one of the most tedious tasks to do, not to mention one of the trickiest, too!
Regardless, no matter whether you've recently invested in some beautiful new upholstered fabric chairs to add a sophisticated accent to your abode, or you've been lucky enough to receive a fabric chair from a friend or loved one, then it's super important to make sure that you are taking good care of it, otherwise, it might soon begin to look quite grubby.
Nevertheless, even though it might seem like a hard task (which is often one of the main reasons why so many people put it on the very bottom of their home cleaning to-do list) the great news is that cleaning upholstered chairs is actually pretty easy to do – so long as you know what you're doing, that is! This is where we come in.
To ensure that you are able to keep your upholstered fabric chairs in pristine condition for as long as you possibly can, in this article, we are going to be sharing with you how you can keep your fabric chairs (as well as other fabric furniture) in the same condition that they were when you first got them. So, whenever you're ready, just read on!
How To Clean A Fabric Chair? Things To Keep In Mind
Before we jump any further into this guide, we are first going to be talking you through some of the most basic rules that you should be sure to follow when undertaking the task of cleaning your fabric chair! First things first, seeing as you're going to be cleaning upholstery, it is very important that you take the time to check out your fabric chair's care label.
Even though we're sure that you're already aware of this, taking the time to inspect the care label of your fabric chair before you begin to clean it will help to prevent you from accidentally damaging the upholstery – as it will contain important information regarding what you can and can't use on your fabric chair to clean it.
After you have taken the time to read through the care label on your fabric chair, you will then be able to determine what cleaning solution you should use in order to clean your chair's upholstery.
Once you have your chosen cleaning solution and you are ready to begin cleaning your fabric chair, before you jump in, we also recommend that you first carry out a patch test to see if the cleaning solution has an adverse effect on your chair's fabric.
Even though doing a patch test will make your cleaning process a little longer, we strongly urge you to do so as it will provide you with the chance to double-check that the cleaning solution you are using is not going to cause any damage.
For this reason, we recommend that you carry out the patch test on the underside of your fabric chair, as in the event that there is any damage – it won't be visible.
How To Clean A Fabric Chair? Step-By-Step Instructions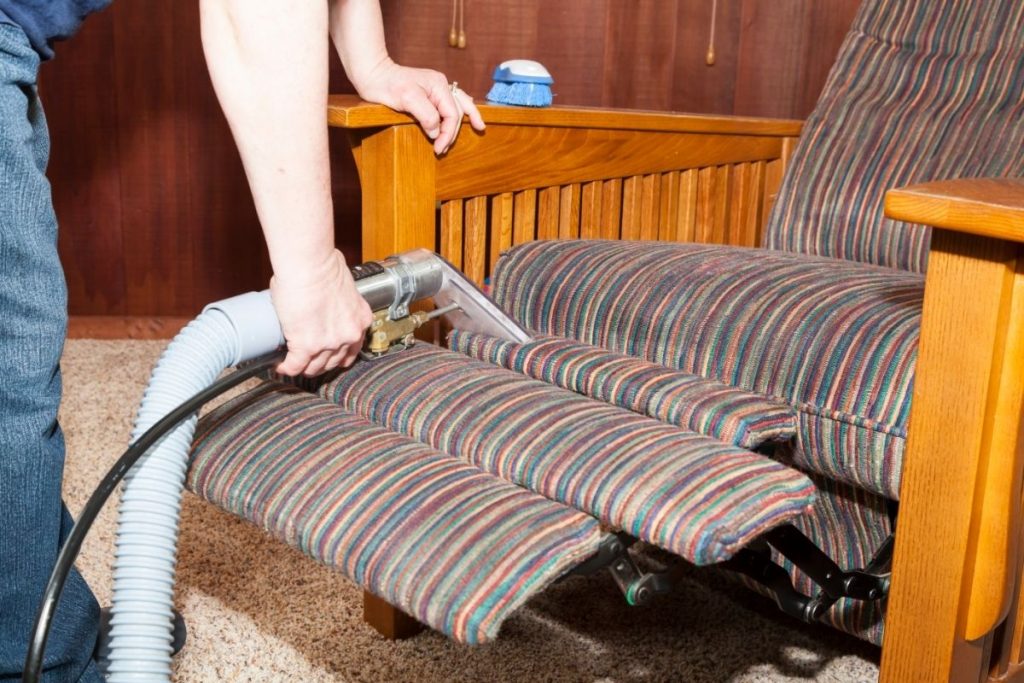 So, now that we have talked you through all of the basic rules that you should remember to carry out when preparing to clean your fabric chair (or indeed, any type of fabric furniture that you might have) we are now going to be providing you with simple and easy to follow instructions that will ensure you are able to return your fabric chair back to its original glory. Whenever you're ready – read on to check them out below:
1. Begin By Vacuuming To Remove Dust
When cleaning your fabric chair, we first recommend that you take a moment to take a vacuum and gently vacuum over the surface of your fabric chair.
This will help to get rid of any surface dust and debris that might be residing in the fabric of your chair – and will help to make the cleaning process a whole lot easier later on, as there won't be any pesky little particles of surface dirt and debris getting in the way of a deep clean.
As a side note, in order to vacuum your fabric chair effectively, we recommend that you remove anything that might get in the way of the vacuum cleaner, such as any throws or pillows you might have on it.
2. Spot Clean Visible Stains
After you have finished vacuuming your fabric chair, you will then need to proceed to spot-clean all of the larger, visible stains that you can see across the surface of your fabric chair.
This will help to ensure that you are able to provide a targeted and deep cleaning action deep into the layers of your fabric chair to get rid of the stain.
Regardless of what type of fabric your fabric chair is made of, you should be sure to only ever blot and dab, rather than scrub the stain in a circular motion – as this could cause the stain to spread and become even more deeply embedded in the fabric.
For best results, we recommend making a mixture of water and an appropriate cleaning solution – and then dabbing it with a clean cloth or towel.
3. Finish With A Deep Clean!
After you have finished vacuuming and getting rid of any stains, you can then proceed to finish up with a deep clean. To do this effectively and without damaging your fabric chair's upholstery, we recommend that you take some lukewarm water and dish detergent and apply it to the surface of your chair.
Once you have done this, you can then take a cloth and gently wipe it back and forth to get deep into the layers of the fabric. After doing this, simply leave it to dry before using it again!