Gone are the days when mopping and vacuuming were enough to convince a client that their property was cleaned professionally. The cleaning industry has come a long way in the last decade especially in the last few years. From methods to equipment and from quote to checklist many things have changed. Commercial Floor Cleaning Services has always been an integral part of commercial cleaning and if you want to hire a commercial cleaner for floor cleaning services then go through this article to know more about these services in detail.
Neither every floor space is the same nor do they require the same process to shine again. Each and every floor space has a different story and that's why understanding the floor type, operation, cleaning requirements, and many more important things are essential before choosing a commercial cleaning company.
So before hiring a cleaning company for commercial floor cleaning services check some important tips, processes, and benefits of hiring commercial cleaning company.
Understand The Floor Before Outsourcing a Business Cleaning Company
In a commercial building, floors could be of any type: concrete, wood, terrazzo, vinyl, ceramic tiles, marbles, or linoleum. It depends on the type of operation that the business is running. Each of these floors needs specialized treatment and a specific approach. And the wrong cleaning method or chemical may harm it.

Wood floors just require a soft wipe and polish with or without water that will maintain their look.

In the case of terrazzo floors, there will be a marble finish supported by a concrete base and they must be kept intact without exception. But maintaining it without any hassle requires a normal cleaning, mopping, and vacuuming routine.

Concrete floors will be suitable with a sealer to prevent the accumulation of moisture or dust at high levels. In addition, professional floor cleaning services should always end with wax polishing to maintain their shiny appearance.

When vinyl floors are concerned, they need to be kept secured from moisture all the time.

In the case of ceramic tiles, especially when it is used in bathrooms, a deep cleaning that includes regular scrubbing will help prevent them from accumulating a lot of stains.

Linoleum floors however require a damp mop and polish after each cleaning to maintain their shiny texture.
Knowing all these points will help you understand the checklist and to choose a reliable company that really knows the right technique of cleaning.
Qualities Of a Good Business Floor Cleaning Services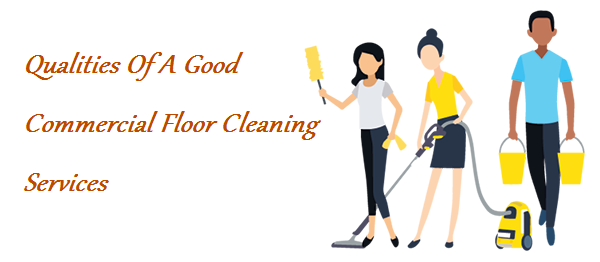 The process and way of handling the cleaning job are two important things that matter most in the cleaning business. However, there are a few more things that can make cleaning more effective and clients fully satisfied.
Diverse in Nature
You must have a firm approach that envisions your cleaning needs in advance. Be it any commercial cleaning, make sure you don't stick to the same size for all the approaches.
Instead, dissect your needs as a whole, understanding each of their individual needs, and prioritizing a checklist and an action plan before you dive into it.
Strategize Thoroughly
To deliver the best professional cleaning result to a business owner, a cleaner team should start with an inspection and noting down tasks and things from corner to corner.
After noting everything, they will draw up an action plan that includes all the details inch by inch – including supplies, equipment, and the process to follow.
Economical in All Respects
There are tons of cleaners out there, and each of them offers a different set of services and uses a variety of equipment and cleaning products. 
Thus, commercial floor cleaning can be an expensive task if you don't choose a cleaner smartly. The final bill includes various things and you need to be aware of them all. 
If you are hiring people on payroll then purchasing equipment,  and products can increase your budget so much. And it doesn't end here, you will also have to spend a lot on the cost of their updates, upgrades, or repairs. 
Thus, first, choose an option from in-house cleaners or outsourcing cleaning service from a professional company and then choose the most suitable company as well.
Environment-Friendly Method
It is not just a goodwill stunt or trend, but a serious thing that the cleaning industry is now completely adapted very well. Green-Cleaning is not only beneficial to the environment but also helps to keep human health protected. 
In this method of cleaning, commercial cleaning companies use only organic cleaning compounds to clean your floors. They sometimes also use hot water with detergent to wash the complete floor. 
Why Do You Need Professional Cleaner For Floor Cleaning Services?
If you want to get the best floor cleaning result, then hiring professional floor cleaning services backed by vast experience, years of expertise and a well-constructed portfolio would be your best bet. 
Since the cleaning business depends on client satisfaction, they will do everything in their power and even extra to ensure that you get the best result at a very reasonable price.
Professional commercial cleaners also have all the equipment, more efficient cleaning products, heavy machinery, and better knowledge. On top of all, they will take care of all the clutter and organization tasks that your premises may require. This will help you save valuable time and energy that you can use to focus on your core business activities.
Additionally, hiring a professional cleaning company will be beneficial in many ways, one way is, when you hire some local cleaner on the payroll you will have to purchase all the equipment, tools, and cleaning products, which will force you to put heavy initial investment in cleaning. 
On the other hand, professional cleaners will be well equipped with all the tools and equipment, thus they will charge you just for cleaning jobs.
If you are looking for a professional cleaning company for top-notch Commercial Floor Cleaning Services in Sydney then CLEANA is here for you. Call Us now and get the complete details!