Every business premise needs to be kept clean. No one likes a dirty home so why would anyone want to work in an unclean environment?

One key difference between a business premise and your home is that a lot more people are likely to come and go to work. This means there is usually more garbage and mess to clean up at the end of the day and week.
Whether a business has customers or not, its premises need to maintain a high level of hygiene. For businesses such as hotels and restaurants, cleanliness is even more critical.
Any business that provides a service to the public needs to be cleaned and as hygienic as possible every day. Moreover, the cleaner the workspace, the safer the employees are.
To maintain a high standard of cleanliness, businesses hire office cleaning services. These employ commercial cleaners who provide a cleaning service for different types of businesses such as offices, factories, stores, and restaurants.

These are not to be confused with domestic cleaning companies due to the fact that the majority of commercial cleaners do not offer their services for homes.
In today's article, we will be discussing commercial cleaners and finding out what they do. If you own a business, a commercial cleaning service is something you should seriously consider.
Business Cleaner: What Do They Do?
In general, a commercial cleaner is a term used to describe an individual or company that provides cleaning services for businesses. These businesses can vary from stores, bars, and restaurants, to factories, hotels, and offices.

While most commercial services solely focus on businesses, some also offer domestic cleaning maintenance. By this, we mean that they will also visit places of residence to clean.
The services offered by commercial cleaners can vary slightly from one to another. However, the majority of commercial cleaners have the equipment and employees available to carry out a range of tasks such as emptying garbage cans, dusting office desks, window cleaning, and even industrial carpet cleaning.
The principal job of a commercial cleaner is, unsurprisingly, cleaning. Generally, this involves the following tasks:
Dusting and mopping furniture (ie desks and chairs)
Vacuuming and mopping floors
The removal of cobwebs
Cleaning beneath different appliances and furniture
Cleaning toilets
Cleaning as well as sanitizing kitchens and lunchrooms
Wiping down door handles, doors, and other similar surfaces
Cleaning external areas of the business premise (ie raking up leaves and cigarette butts)
Spot-cleaning walls, doors, and other surfaces
The emptying of trash cans
The removal of recycling
These are just some of the most common jobs a commercial cleaner will be responsible for. A commercial cleaner may also perform other kinds of tasks depending on the business or establishment.
An example would be a restaurant. As these premises have kitchens and dining areas, a more thorough cleaning is always required.

More often than not, degreasing is also needed in parts of the kitchen. For schools, bathrooms and the cafeteria need to be maintained and kept extra clean regularly too.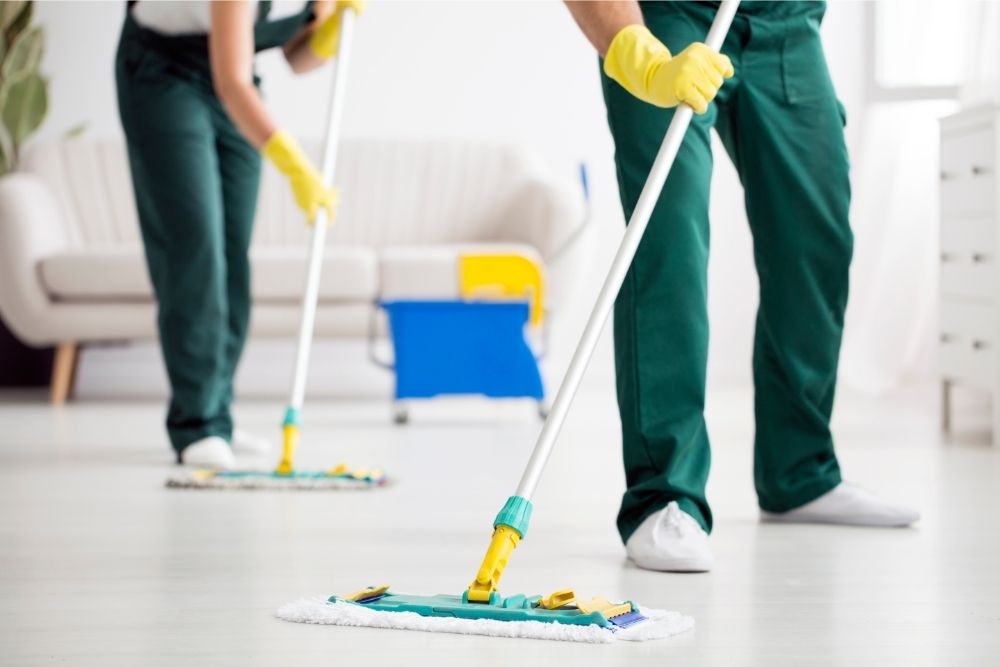 For offices and restaurants with large glass doors and/or more windows, commercial cleaners can also include window or glass cleaning as part of their service as well.
Where Do Business Cleaners Work?
Generally speaking, commercial cleaners only work in industrial and commercial premises. Some of the most common examples include:
Stores
Restaurants
Schools
Universities
High-rise buildings
Offices
Data Centers
Showrooms
Factories
Government facilities
Medical facilities (Hospitals etc)
Function Centers
Some commercial cleaning services end up working in dangerous environments such as factories and industrial settings. They may also clean windows in high-rise skyscrapers. However, such jobs are usually performed by highly trained and skilled individuals.
Why Use A Business Cleaner?
A business premise is a very important place. It is typically the place where all work is carried out and transactions, discussions, and thinking are started.
As these premises are generally busier than any home, it is vital that they are kept clean, especially for business to resume every day.
There are five main reasons why businesses should use commercial cleaners. These are:
The time saved
Insurance
The cleaning equipment at their disposal
Overall reliability
A sure way of enjoying a clean business premise
Time Saved
Whether a business is small or large, there will usually be little time left over for the business owner or employees to perform cleaning duties on top of their regular work. Staff is employed for specific purposes.

Therefore, cleaning may not be regarded as part of their duties. Furthermore, a company would typically find it more productive and financially rewarding to let their employees focus on their professional job.
By hiring a commercial cleaner, they can maintain high levels of hygiene while staff performs their main purposes. Also, a commercial cleaner can usually arrive at a business premise when needed.

As part of a contract between the commercial cleaning service and the business, all the cleaning jobs should then be carried out as promised. So, whether the business is extremely busy or not, at least it will be kept clean regardless of how much time the staff has.
Insurance
A respectable Commercial cleaning company will have insurance to use their equipment and work on business premises. If a business, such as a factory, requires machinery to clean certain areas, the employees may not be insured to operate such devices.

By hiring a commercial cleaner, they are legally covered to use machinery such as industrial carpet cleaners so the staff of a business does not need to risk anything while cleaning.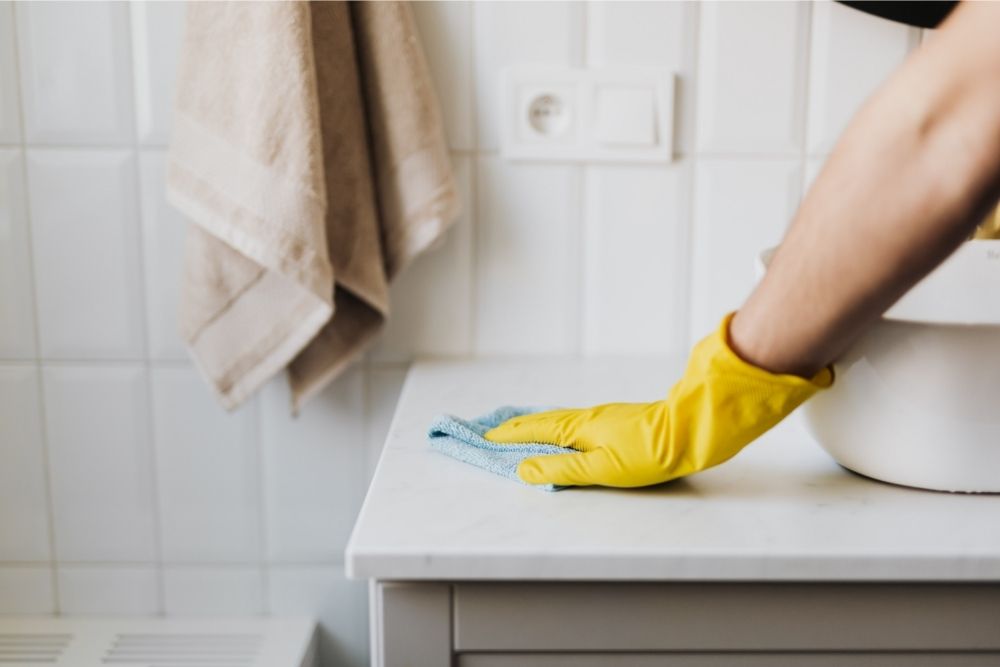 The Correct Cleaning Equipment
Most businesses will have a sweeping brush, some clothes, and polish at their disposal if a quick clean-up is required. However, a commercial cleaning service will arrive with these and so much more equipment.

Depending on what a business requires, commercial cleaners can turn up with industrial carpet cleaners, floor polishers, and water-fed poles for cleaning high-rise windows. In other words, commercial cleaners can reach a level of hygiene most are incapable of.
Overall Reliability
If a commercial cleaning company is even half good, it will have a staff of highly trained cleaners at its disposal. Therefore, business premises can be cleaned regularly (depending on the contract), even during holiday periods and staff illnesses.

If a business asks its staff to perform cleaning duties, the employees will usually leave it till last, if they ever do it at all. This can become a significant issue when a business is short-staffed during holiday periods or when it is very busy.
Business Premises Maintain Cleanliness
There are many reasons why a workplace needs to be kept clean. If the business is customer-facing, it must remain clean and neat-looking at all times. If not, customers are unlikely to return.

As well as customers, staff need to work in a clean space. Cleaner work environments are better to work in. Therefore, they are more likely to work harder and less likely to be off work sick.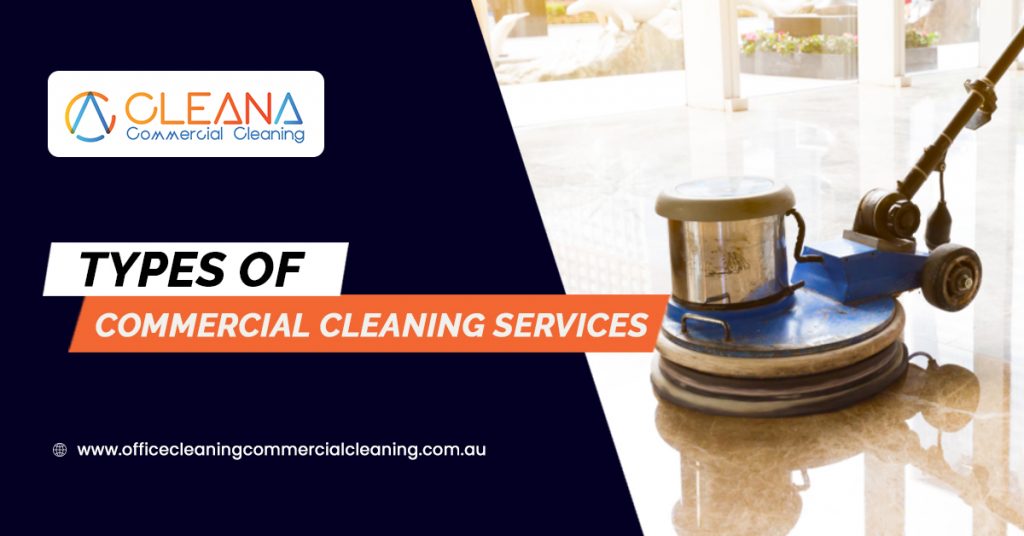 In Summary
A commercial cleaner is vital to most businesses. Frequent cleaning helps maintain adequate or high standards of hygiene which is beneficial for both staff and customers.
Any customer-facing business should be using a commercial cleaner every day to ensure the environment is clean and tidy so customers will want to return.
Businesses have a duty to keep their premises clean for both customers and staff. Even if employees try to maintain a level of cleanliness, a commercial cleaner will take a different approach and ensure the workplace is cleaner and tidier than ever.